WE ARE OPEN with NEW DAYS!
MONDAY, FRIDAY AND SATURDAY 9-1 PM.
We are all volunteers so our days and hours change accordingly to staffing coverage. If we are not open when you are visiting the area, please call 530-604-7771 and we may be able to accommodate a visit for you.
We love sharing our history for school tours (we have fun docents!), "car" club tours and call us if you have "out of town" guests coming. We will try to accommodate your needs!
We have added some of our past newsletters for your pleasure that have interesting stories and photos, so take a look at our "newsletters" page.
Our location is 1525 Median Ave. in the City of Shasta Lake. We are part of the Visitors Center housing a Museum, Library and Chamber of Commerce.
Mailing address: P.O. Box 562, Shasta Lake, CA 96019. Email: slhandhs@gmail.com.
One can only image what it was like in those days of construction on Shasta Dam in the late 30's and early 40's. These are just a few of the many photographs in our collection.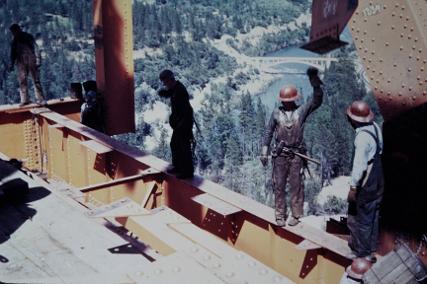 Working on the Pit River Bridge under construction. In the picture above, look down at the river, that is the old Pit River Bridge in the background.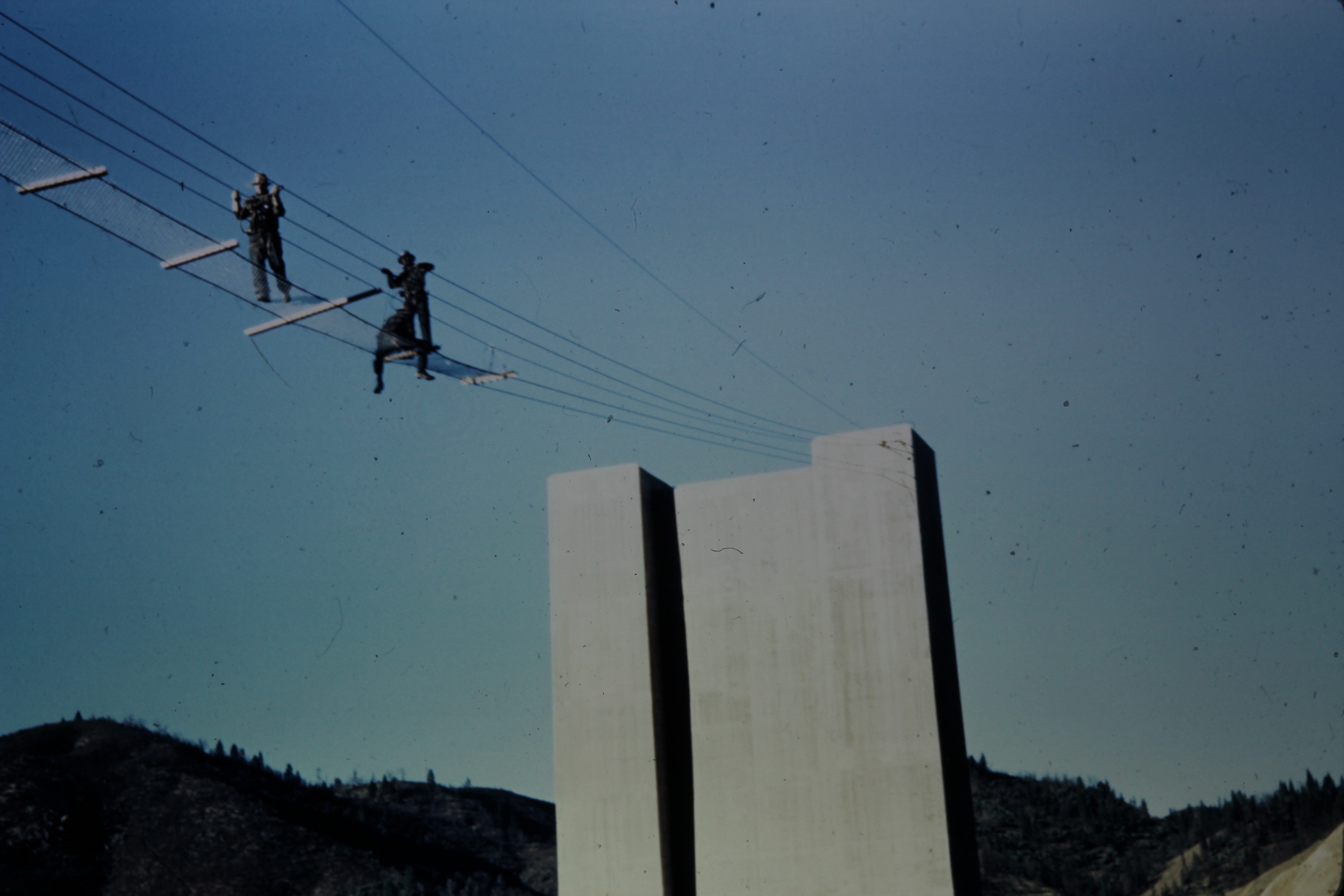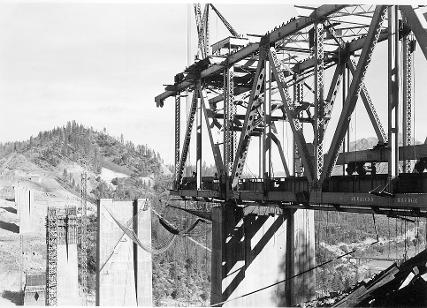 Board of Directors
Darlene V. Brown, President

Mike Daniels, Vice President

Rick Fox, Recording Secretary

Kay Kobe, Treasurer
Pete Droesch, Director
Sandy Estes, Director
Del Hiebert, Director
Lena Locke, Director
Many photographs shown on our website are personal photos and can not be used for commercial purposes in any form. Please contact us for permission of use on any reproduction of any of the photographs within our website. Thank you.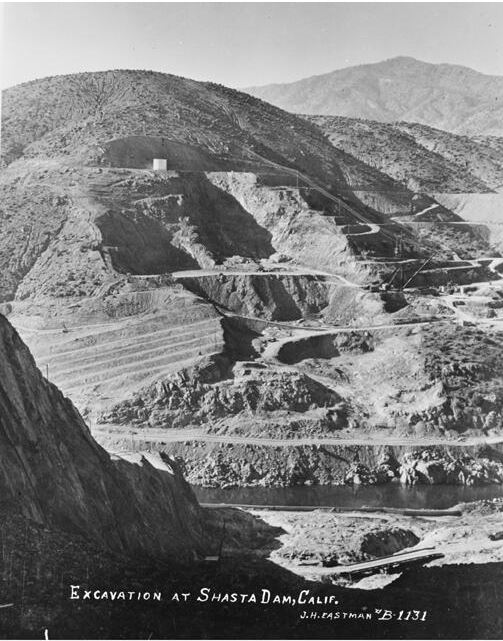 OCTOBER:
Premiere Showing of "Kennett - Town under Shasta Lake" by Myra Buteau Films - 10/7/2022
Historical Society Dinner Tickets - "Wine & Dine at the Diamond Saloon" - 10/21/2022
Our sincere thanks to any and all of you who helped us over the years!
It was because of your support that we have been able to preserve the photographs and stories that are shown in the museum. From before the construction of Shasta Dam - copper mining and the cities under Shasta Lake- to the Boomtown era of Shasta Dam construction and on to the towns and people that were located along the Sacramento River before I-5 came into being, we have so
much history to share!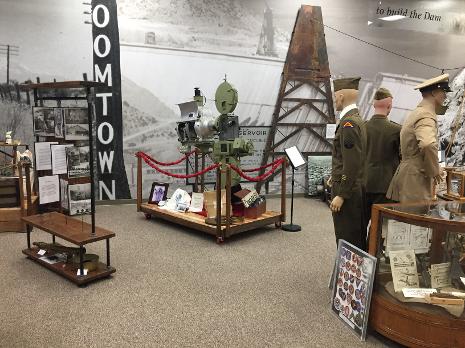 In the Boomtown Museum are 14ft. tall murals enhancing two of our walls. Telling a story, the murals were created by Brandon Warlick of Sign Creations in Redding, CA using photographs from our files. One wall depicts the Mammoth Mine located above the town of Kennett and symbolic of the Copper Mining that encompassed the area before Shasta Dam was built. The other wall shows the dam workers arriving to work on building Shasta Dam.
Platforms display antiques and vintage items of the era including the "elephant" in the room, the original movie projector, resurrected out of the "Boomtown" Shasta Theatre ashes by Mr. Hall and then donated by the Hall estate. What is exciting is that Board Director Rick Fox is repairing the old Hall wiring, thus bringing the projector back to life! We'll keep you posted on his progress - we have old film to show!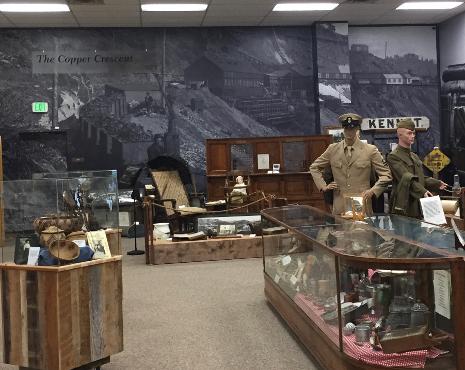 Display stands contain local stories, showcases feature unique musical instruments; vintage radios and phonographs, vintage typewriters, Native American baskets, Veteran's memorabilia and more. We have maps, oh boy do we have maps and newspapers ...and over 5,000 photos and lots of reference material. We also have a big screen TV to show our digital films and a recording studio to digitize and preserve your stories for our files, and a gift shop!
Suggested admission is $3.00 donation (this helps us keep our doors open as we're non-profit/all volunteers). There is No charge to Society Members, their families, and Children under 12.
Shasta Dam has tours telling you how and why Shasta Dam was constructed. We will tell you about the PEOPLE who came to live and work here - before the Dam, during the Dam construction, and after the Dam was completed.
So on your next visit to Shasta County, make it point to stop by the BOOMTOWN MUSEUM on your way to Shasta Dam, Shasta lake or the mountains, and learn a little more about local history. You'll be glad you did!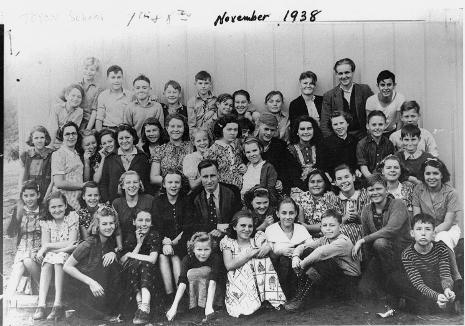 "Those Dam Kids". It is a great addition to any book collection. Almost 300 pages, it is full of photos and short stories by the offspring of the workers on Shasta Dam. Sharing their memories during the "Boomtown Years", it is a quick must read and sure to be a collectible book in years to come. Above is Mr. Mathew Rumboltz with some of "those Dam kids" and the first 7th & 8th grade students at Toyon School 1938. click: those-dam-kids-book.php